Archive
February 2021
January 2021
December 2020
"Aging" Stylishly in Place
By Kimarie Hoyte | February 19, 2021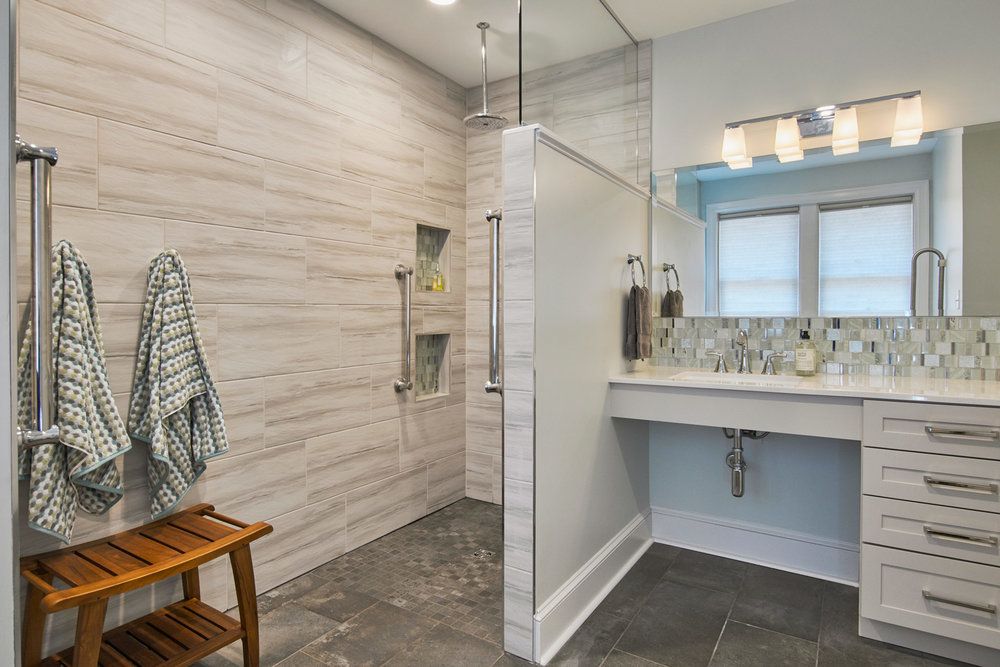 Getting older is something that we don't like to think about but it happens to everyone. As the old adage says "Time waits for no man." There is no way to hold back the hands of time but it helps to be prepared. In recent times there has been a significant increase of what can be considered an "aging society" as the result of rising extended life expectancies. More and more people of a retiring age are opting to stay in their forever homes for as long as they can. In response to this, a relatively new term has emerged in the design world called Aging in Place. This term applies to multiple housing strategies and design practices for our older adult population that can be utilized to keep their homes accessible and safe.
Thoughts of creating spaces for older persons may conjure up images of a nursing home but this is not necessarily the case. There are several modifications that can be made that are both stylish and functional. Fortunately most of these modifications can be done without any major renovations. Here's a look at some simple ways to make your home more accessible as you Age in Place.
Switch out the tub for a low curb or curbless shower.  A curbless shower makes transitioning in and out of the shower easy and safe. This, however, may not be a task you want to tackle yourself. Before you proceed, you may want to hire a professional contractor who understands the principles of a proper slope to allow for good drainage.
 You can add a shower bench. You don't have to be of retirement age to appreciate a bench in the shower. A shower bench allows anyone to go through their shower routine comfortably and safely. You can either choose a built-in bench or a wall-hung one that can be folded up in a tight space. Make sure the one you do choose is ideal for a wet environment. Moisture-resistant materials like teak, cedar or plastic are ideal.
Next to your shower bench you may want to incorporate a handheld shower. You can easily redirect the water flow from the shower head to a handheld shower. This will come in handy if you need to sit on your bench while showering. If you install a hand shower slide bar system this would be even better as it allows the showerhead to be easily adjusted to your preferred height.
Think about changing out your standard height toilet for a comfort height one. Let's face it, not everyone can have Meghan thee Stallion knees. If you had to google who is Meghan thee Stallion it may be time for you to get a comfort height toilet. A comfort height toilet allows you to easily sit down and stand-up, this is due to the fact that comfort height toilet bowls are 16-19 inches from the ground up (plus seat) whereas regular toilet bowls are around 15 inches. Because of its extra height, it is preferred by taller persons, the elderly and those with physical disabilities making the trip to the loo much more comfortable.
Grab bars are another great feature to incorporate in your bathroom. They provide stability while maneuvering around your bathroom and can help to prevent falls. The appearance of your grab bars may be important to you if you want to incorporate them in your renovation but aren't at the stage where you necessarily need them. There are many stylish and sleek designs available that can blend seamlessly with your other fixture choices without sacrificing functionality.  
 Technology and older people may not sound like something that necessarily goes together but technology just might be the answer to living a more accessible life as we age in place. Smart homes have evolved and advanced with the introduction of voice command assistant platforms that allows anyone to issue commands to carry out tasks. Alexa, Google Assistant or Siri can help you navigate a smart home a lot more easily than using apps or interfaces on physical devices. So even if you aren't tech savvy there is no steep learning curve to operate your smart home devices. Moen has introduced U by Moen Smart Faucet technology which makes everyday interactions in the kitchen and bath more convenient and efficient.
Wouldn't you love a faucet that delivers the exact amount of water you need at the temperature you desire? These faucets are also available in a variety of fixture styles, in several finishes sure to suit any design taste.
There are many more options and possibilities of what's out there to make Aging in Place that more accessible to all.